Infrared Sauna
Infrared Sauna / Steam Sessions
1 session / per person

10 sessions pass

1 month pass

$25.00

$200.00

$ 200.00
What is Infrared heat?
Infrared heat is simply a form of energy that is directly transmitted onto objects because of its specific wavelength. It has nothing to do with ultraviolet light which gives you sunburn and damages your skin.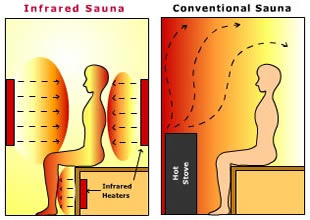 Where conventional saunas transfer heat by circulating hot air, thus warm your body from your head, the infrared heat rays warm your body directly. This allows an in-depth heat in a more pleasant temperature of 110° – 150° F  (43° – 60° C), thus providing more health benefits and a highly enjoyable and comfortable environment.
Conventional saunas need high air temperatures to pull impurities from the body, but infrared heated saunas can directly penetrate up to 45 mm inside the body. Impurities can be pushed out using lower and more comfortable temperatures.
As the body temperature rises by infrared heat, perspiration occurs and blood circulation increases.The muscles and organs are stimulated and toxic waste (fat, heavy metals and other toxic materials) is removed from your body through perspiration.
How does it benefit us?
Our body reacts to the increased heating through the natural cooling process of perspiring. Through the perspiration process, acid and waste residue like toxins, sodium, alcohol, nicotine, cholesterol and the potentially carcinogenic heavy metals are removed from the cells (especially zinc, lead, nickel, cadmium, etc). As well as the pores of our skin opening and discharging waste products , the skin sheds any old skin cells , leaving it glowing and immaculately clean, with improved tone, elasticity, texture and colour.
Cardiovascular Conditioning:
While the moisture on the surface of the skin evaporates and thus cools the body, a number of other changes occur in the body to release the heat as quickly as possible. The heart beats harder and faster, pumping more blood through the dilated blood vessels, thus achieving the conditioning benefits of continuous exercise.
Weight Control:
As our body expends energy to produce sweat (1 gm sweat requires 0.586 kcal) a moderately conditioned person can easily sweat off up to 1000gms or more in a sauna session – the equivalent to running 10 – 15 Km. While this weight loss can be regained by re-hydration with water, the calories consumed will not. This is a valuable system for those who don't exercise and those who can not exercise, yet want an effective weight control and fitness program, along with the benefits that regular exercise bring.
Where is infrared technology used?
Infrared heat is well known for pain relief. Health professionals have used red infrared heat lamps for decades to treat muscle and joint problems. In hospital baby care units, incubators are often equipped with infrared heating systems to keep new-born babies warm.