Opulence with Oxygen Infusion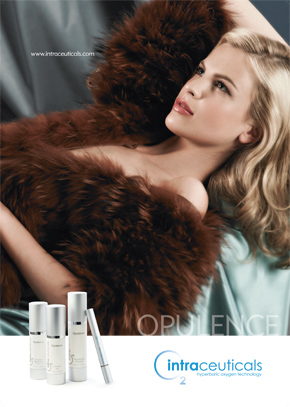 An Opulence Infusion is soothing, relaxing and suitable for all skin types. In just one soothing treatment your skin will look younger, brighter, more luminous. Uneven skin tone is balanced, skin looks and feels hydrated, rejuvenated, radiant and fresh.
how the infusion works
An Intraceuticals Opulence Infusion® harnesses three elements toachieve instant and dramatic Results:
A. Oxygen under light pressure aids delivery of age defyingactives to the deeper layers of the skin at the same time ascooling and calming the skin.
B. Unique Opulence Serum containslightweight Hyaluronic Acid, a powerfulcombination of Vitamins and antioxidants,and a blend of botanical brighteners.Hyaluronic Acid helps to instantly hydratethe skin resulting in increased firmness,reduced fine lines, and improved facialcontours. Botanical brighteners helpbalance skin tone and Vitamin C protects and defends againstenvironmental damage and premature skin ageing.
C. Treatment Support Products provide essential layers to sealin and supplement skin nutrients for maximum synergistic effectand longer lasting results.
HYALURONIC LAYERING
Lightweight Hyaluronic Acid in the Opulence Serum is absorbedquickly for maximum dispersion of nutrients. Opulence HydrationGel with multi-weight Hyaluronic Acid offers a reservoir ofnutrients for the lower levels of the skin, and Opulence MoistureBrightening Cream with multi-weight Hyaluronic Acid moisturisesthe skin's surface. The ultimate in intense hydration is nowachieved and we call this Hyaluronic Layering.
STEP 1: THE opulence INFUSION
This is the first step in yourskin's transformation. Cooling,calming, pressurised oxygenincreases absorption of theOpulence serum and naturallyimproves your skin's moisturelevels while vitamins andantioxidants protect anddefend. A combination oflightweight Hyaluronic Acid,Vitamins A, C, E and GreenTea result instantly in smootherskin with reduced fine lines andwrinkles, better volume andincreased firmness. A blendof botanical brighteners and super concentrated Vitamin C helpcontrol melanin formation and balance uneven skin tone. Yourskin will emerge deeply hydrated, more luminous, and glowingwith health and vitality. Results are not only instant but continueto improve in the following days.
STEP 2: OPULENCE HYDRATION GEL
Intensify and maintain your results with Treatment SupportProducts. Opulence Hydration Gel with multi-weight HyaluronicAcid provides the next hydration layer to seal in moisture andcreate an invisible barrier against moisture loss. Contains a blendof botanical brighteners including Alpha Arbutin and superconcentrated Vitamin C to target uneven skin tone. Apply twicedaily. Use Rejuvenate Contour Eye Gel at this stage too –specifically formulated for the delicate eye area with double theconcentration of multi-weight Hyaluronic Acid.
STEP 3: OPULENCE MOISTURE BRIGHTENING CREAM
The final step in the hyaluronic layering process. This moisture richproduct contains multi-weight Hyaluronic Acid providing intensehydration and a blend of botanical brighteners including AlphaArbutin and super concentrated Vitamin C – to lock in moisture andrestore skin's natural radiance. This Hyaluronic Layering processoffers unmatched hydration and long lasting results. Continued useof Treatment Support Products is an essential stage in prolongingthe benefits. Apply twice daily and prepare to be impressed.